$19.99
AUD
Category: Mystery and Adventure | Series: Gone
Welcome to the FAYZ! This is Book 1 in the series that Stephen King calls a 'driving, torrential narrative'. In the blink of an eye all the adults disappear in a small town in southern California and no one knows why. Cut off from the outside world, those that are left are trapped, and there's no help o n the way. Sam Temple and his friends must do all they can to survive. Chaos rules the streets. Gangs begin to form. Sides are chosen - strong or weak. Cruel or humane. And then there are those who begin to develop powers...The GONE series is Lord of the Flies for the 21st century. In turns breathtaking, harrowing, and utterly terrifying. Its complex characters and moral dilemmas will delight fans of The Hunger Games, Divergent and The Maze Runner. This is dystopian fiction at its best. Have you got all 6 titles in the New York Times bestselling saga: Gone, Hunger, Lies, Plague, Fear, and Light? "I am now free to leave the FAYZ, but my time there was well spent". (Stephen King). Michael Grant has lived an exciting, fast-paced life. He moved in with his wife Katherine Applegate after only 24 hours. He has co-authored over 160 books but promises that everything he writes is like nothing you've ever read before! If the Gone series has left you hungry for more from the dark genius of YA fiction, look out for the BZRK trilogy: BZRK, BZRK Reloaded, BZRK Apocalypse and the terrifying Messenger of Fear and its sequel The Tattooed Heart. ...Show more
$19.99
AUD
Category: Mystery and Adventure | Series: Gone | Reading Level: Children's - Grade 4-6, Age 9-11
Welcome back to the FAYZ! This is Book 6 in the series that Stephen King calls a 'driving, torrential narrative'. All eyes are on Perdido Beach. The barrier wall is now as clear as glass and life in the FAYZ is visible for the entire outside world to see. Life inside the dome remains a constant battle and the Darkness, away from watchful eyes, grows and grows ... The society that Sam and Astrid have struggled so hard to build is about to be shattered for good. It's the end of the FAYZ. Who will survive to see the light of day? This is the nail-biting finale to the GONE saga. The GONE series is Lord of the Flies for the 21st century. In turns breathtaking, harrowing, and utterly terrifying. Its complex characters and moral dilemmas will delight fans of The Hunger Games, Divergent and The Maze Runner. This is dystopian fiction at its best. Have you got all 6 titles in the New York Times bestselling saga: Gone, Hunger, Lies, Plague, Fear, and Light? 'I am now free to leave the FAYZ, but my time there was well spent' Stephen King If you love GONE, be sure not to miss Michael's new series Front Lines - it's WWII but not as you know it! The first book is Front Lines, followed by Silver Stars. Michael Grant also has a World Book Day book, Dead of Night, which is set in the Front Lines universe and written exclusively for World Book Day 2017. Michael Grant has lived an exciting, fast-paced life. He moved in with his wife Katherine Applegate after only 24 hours. He has co-authored over 160 books but promises that everything he writes is like nothing you've ever read before! If the Gone series has left you hungry for more from the dark genius of YA fiction, look out for the BZRK trilogy: BZRK, BZRK Reloaded, BZRK Apocalypse and the terrifying Messenger of Fear and its sequel The Tattooed Heart. Michael is a World Book Day author for 2017. ...Show more
$18.99
AUD
Category: Advanced Reader | Series: Tomorrow
World War III becomes an unstoppable reality in the action-packed first installment of the Tomorrow series--an international bestseller in an eye-catching new paperback.   When Ellie and her friends go camping, they have no idea they're leaving their old lives behind forever. Despite a less-than-tragi c food shortage and a secret crush or two, everything goes as planned. But a week later, they return home to find their houses empty and their pets starving. Something has gone wrong--horribly wrong. Before long, they realize the country has been invaded, and the entire town has been captured--including their families and all their friends.Ellie and the other survivors face an impossible decision: They can flee for the mountains or surrender. Or they can fight. ...Show more
$19.99
AUD
Category: Realistic Fiction
With a bolt of lightning on my kicks . . .The court is SIZZLING. My sweat is DRIZZLING. Stop all that quivering. Cuz tonight I'm delivering? 12-year-old Josh and his twin Jordan have basketball in their blood. They're kings of the court, star players for their school team. Their father used to be a c hampion player and they each want nothing more than to follow in his footsteps. Both on and off the court, there is conflict and hardship which will test Josh's bond with his brother. In this heartfelt novel in verse, the boys find that life doesn't come with a play-book and it's not all about winning. ...Show more
$14.99
AUD
Category: Mystery and Adventure
Robin and Marion are back! Second in the brand-new, action-packed series from international bestseller Robert Muchamore. 'Strikes the bullseye.' - The Times  
$16.99
AUD
Category: Realistic Fiction
Can you imagine being lost and not finding your way home again?Saroo Brierley became lost on a train in India at the age of five. Not knowing the name of his family or where he was from, he survived for weeks on the streets of Kolkata, before being taken into an orphanage and adopted by a family in Aust ralia.Despite being happy in his new home, Saroo always wondered about his origins. He spent hours staring at the map of India on his bedroom wall. He pored over satellite images on Google Earth seeking out landmarks he recognised. And one day, after years of searching, he miraculously found what he was looking for.Then he set off on a journey back to India to see if he could find his mother.This inspirational true story of survival and triumph against incredible odds is now a major motion picture starring Dev Patel, David Wenham and Nicole Kidman.This edition has been specially edited for younger readers who want to discover Saroo's extraordinary story for themselves. ...Show more
$17.99
AUD
Category: Fantasy | Series: Summoner | Reading Level: Teen - Grade 7-9, Age 12-14
Second in Taran Matharu's New York Times bestselling epic fantasy Summoner Trilogy, The Inquisition is an action-packed adventure of a young man gifted--or cursed--with an extraordinary and terrifying power... A year has passed since the Tournament. Fletcher and Ignatius have been locked away in Pelt' s dungeons, but now they must face trial at the hands of the Inquisition, a powerful institution controlled by those who would delight in Fletcher's downfall. The trial is haunted by ghosts from the past with shocking revelations about Fletcher's origins, but he has little time to dwell on them; the graduating students of Vocans are to be sent deep into the orc jungles to complete a dangerous mission for the king and his council. If they fail, the orcish armies will rise to power beyond anything the Empire has ever seen. With loyal friends Othello and Sylva by his side, Fletcher must battle his way to the heart of Orcdom and save Hominum from destruction . . . or die trying.   This paperback edition includes an interview with the author, a special sneak peek of the sequel, The Battlemage, and more. The Summoner TrilogyThe NoviceThe InquisitionThe Battlemage Also in the Summoner series The Outcast (Summoner: The Prequel)The Summoner's HandbookA Fine Welcome: Othello's Journey (A Summoner Short Story)   ...Show more
$17.99
AUD
Category: Realistic Fiction | Reading Level: 8 Kids Middle Readers
Zeelie wonders if they're in danger. When temperatures soar to 47 degrees one hot summer day, 12-year-old Zeelie hopes the nearby bushfires everyone's talking about aren't heading towards her family's new home. What will they do if the wind changes direction? What about their belongings and their belove d pets? And why hasn't her mum and brother returned from Melbourne? Nothing can prepare Zeelie for what's to come.     ...Show more
$17.99
AUD
Category: Realistic Fiction | Series: Cherub | Reading Level: 11-14
The sixth title in the number one bestselling CHERUB series! James uncovers corruption where he least suspects it ... When an MI5 operation goes disastrously wrong, James Adams needs all of his skills to get out of Russia alive. Meanwhile, his sister Lauren is on her first solo mission, trying to unco ver a brutal human trafficking operation. And when James does get home, he finds that his nightmare is just beginning ... CHERUB agents have one crucial advantage: adults never suspect that children are spying on them. For official purposes, these children do not exist. ...Show more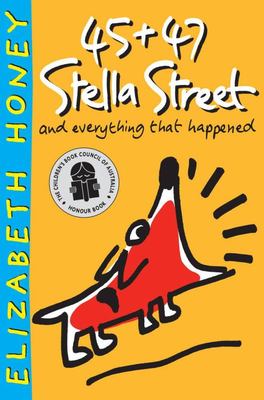 $16.99
AUD
Category: Realistic Fiction | Series: Stella Street | Reading Level: From 8 To 12
Here's 11-year-old Henni's original version of what her gang did when The Phonies moved into their street and started to spoil everything! It's fast and funny and you never know what's going to happen next.  
$16.99
AUD
Category: Realistic Fiction | Series: Stella Street
A brand new Stella Street adventure from Elizabeth Honey! When Henni goes to Amsterdam with her elderly Dutch neighbour, she discovers a long-held family secret. But this creates a terrible dilemma for Henni - should she tell the Dutch family what she knows?  
$14.99
AUD
Category: Advanced Reader
  In the tradition of Wonder and Out of My Mind, this big-hearted middle grade debut tells the story of an irrepressible girl with cerebral palsy whose life takes an unexpected turn when she moves to a new town. Ellie's a girl who tells it like it is. That surprises some people, who see a kid in a wheel chair and think she's going to be all sunshine and cuddles. The thing is, Ellie has big dreams: She might be eating Stouffer's for dinner, but one day she's going to be a professional baker. If she's not writing fan letters to her favorite celebrity chefs, she's practicing recipes on her well-meaning, if overworked, mother. But when Ellie and her mom move so they can help take care of her ailing grandpa, Ellie has to start all over again in a new town at a new school. Except she's not just the new kid--she's the new kid in the wheelchair who lives in the trailer park on the wrong side of town. It all feels like one challenge too many, until Ellie starts to make her first-ever friends. Now she just has to convince her mom that this town might just be the best thing that ever happened to them ...Show more