$19.99
AUD
Category: Young Adult | Reading Level: Teen
Remember daughter, the world is a lot bigger than anyone knows. There are things that science may never explain. Maybe some things that shouldn't be explained. Stacey and Laney are twins - mirror images of each other - and yet they're as different as the sun and moon. Stacey works hard at school, determ ined to get out of their small town. Laney skips school and sneaks out of the house to meet her boyfriend. But when Laney disappears one night, Stacey can't believe she's just run off without telling her. As the days pass and Laney doesn't return, Stacey starts dreaming of her twin. The dreams are dark and terrifying, difficult to understand and hard to shake, but at least they tell Stacey one key thing - Laney is alive. It's hard for Stacey to know what's real and what's imagined and even harder to know who to trust. All she knows for sure is that Laney needs her help. Stacey is the only one who can find her sister. Will she find her in time? ...Show more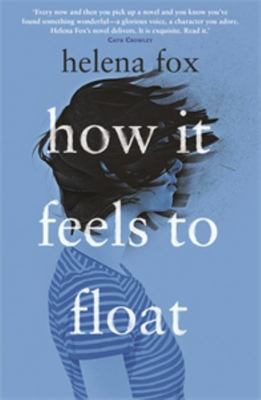 $17.99
AUD
Category: Young Adult
Winner of the Victorian Premier's Literary Award for Writing for Young Adults 2020.   Biz knows how to float. She has her posse, her mum and the twins. She has Grace. And she has her dad, who tells her about the little kid she was, and who shouldn't be here - because he died when she was seven - but is. So she doesn't tell anyone her dark thoughts. She knows how to float, right there on the surface - normal okay regular fine. But when the tethers that hold Biz steady come undone - when her dad disappears along with all comfort - might it be easier, better, sweeter to float away? This is a mesmerising, radiant debut. It's a story about love, grief, family and friendship, about intergenerational mental illness, and about how living with it is both a bridge and a chasm to the ones we've lost. Helena Fox explores the hard, bewildering and beautiful places loss can take us, and honours those who hold us tightly when the current wants to tug us out to sea. 'Every now and then you pick up a novel and you know you've found something wonderful - a glorious voice, a character you adore. Helen Fox's novel delivers. It is exquisite. Read it.' Cath Crowley ...Show more
$16.99
AUD
Category: Young Adult | Reading Level: Teen
Can two broken boys find their perfect home? By turns heartbreaking and heartwarming, this is a gorgeously told, powerful story. Sam is only fifteen but he and his autistic older brother, Avery, have been abandoned by every relative he's ever known. Now Sam's trying to build a new life for them. He surv ives by breaking into empty houses when their owners are away, until one day he's caught out when a family returns home. To his amazement this large, chaotic family takes him under their wing - each teenager assuming Sam is a friend of another sibling. Sam finds himself inextricably caught up in their life, and falling for the beautiful Moxie. But Sam has a secret, and his past is about to catch up with him. Heartfelt storytelling, perfect for fans of Jandy Nelson and Jennifer Niven. ...Show more
$16.95
AUD
Category: Middle Reader | Reading Level: Younger Readers
CBCA WINNER 2020:Book of the Year: Younger Readers When a Manly school sets out to bring a country class to the city for a beach visit, three very different kids find each other and themselves. Noah is fearless in the surf. Being at the beach makes him feel free. So where does his courage go when his best mate pushes him around? Lottie loves collecting facts about bugs, but she wishes her dad would stop filling their lonely house with junk. She doesn't know what to do about it. Jack wants to be a cricket star, but first he has to get to school and look after his little sister. Especially if he wants to go on the class trip and see the ocean for the first time. ...Show more
$19.99
AUD
Category: Picture Books | Reading Level: Early Childhood
A delightful picture book about a friendship between an exuberant but loveable dachshund and his more retiring, tidy housemate.
$24.95
AUD
Category: Picture Books | Reading Level: Picture Book
But what does a parrot need?A book about wanting and needing what a child wants and what a wild bird needs.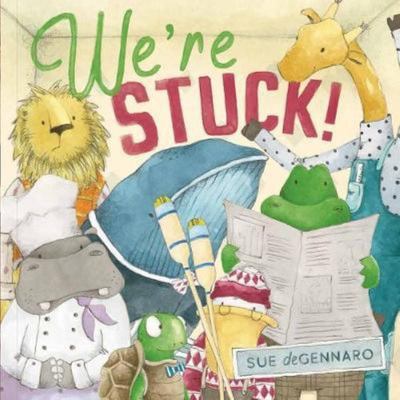 $24.99
AUD
Category: Picture Books | Reading Level: Early Childhood
Turtle needs to get to the shop. It is important that he isn't late. When he races into the lift of Building 24 with all the busy people, there is a nod and a blink and a step to the side. A grunt and a sigh and a lean to the right.But what happens when the lift stops moving? Crocodile has a meeting to get to. And Giraffe has a doctor's appointment. And Turtle really, really needs to get to the shop. ...Show more
$24.99
AUD
Category: Picture Books | Reading Level: New Illustrator
Baby Business tells the story of the baby smoking ceremony that welcomes baby to country. The smoke is a blessing -- it will protect the baby and remind them that they belong. This beautiful ritual is recounted in a way young children will completely relate to. Jasmine Seymour is a Darug woman and a des cendant of Maria Lock, daughter of Yarramundi, the Boorooberongal Elder who had met Governor Phillip on the banks of the Hawkesbury in 1791. It is Jasmine's wish that through her books, everyone will know that the Darug mob are still here, still strong. Jasmine is a primary school teacher in the Hawkesbury area of NSW. ...Show more
$17.99
AUD
Category: Historical Fiction | Reading Level: Younger Readers
This coming-of-age story by multiple-award-winner Meg McKinlay is about loss and grief, dealing with change and fighting to hold on to what you can, while letting go of what you can't. It's 1979 and the sky is falling. Skylab, that is. Somewhere high above Frankie Avery, one of the world's first space s tations is tumbling to Earth. And rushing back with it are old memories. Things twelve-year-old Frankie thought she'd forgotten. Things her mum won't talk about, and which her little brother Newt never knew. Only ... did he? Does he? Because as Skylab circles closer, Newt starts acting strangely. And while the world watches the sky, Frankie keeps her own eyes on Newt. Because if anyone's going to keep him safe, it's her. It always has been. But maybe this is something bigger than splinters and spiders and sleepwalking. Maybe a space station isn't the only thing heading straight for calamity. ...Show more
Three (HB)
by Stephen Michael King
$24.99
AUD
Category: Picture Books | Reading Level: Picture Book
One, two, three . . . Every day was a hop and a skip for Three. He was happy to walk from here to there, wherever his nose led, or wherever his legs took him . . . all the way to new friends.
$32.99
AUD
Category: Fact & Reference Books | Reading Level: Eve Pownall Award
INDIE AWARD WINNER 2020. Marvel as you enter the fascinating hidden world of ugly animals in this encyclopaedia of the animal kingdom's most unusual and beauty-challenged species. It's time for ugly animals to shine! With more than sixty ugly animals to explore, this compendium of the unusual celebrates the beauty in 'ugliness'. Children and adults alike will pore over the breathtaking scientific illustrations of unusual animals, debating their relative ugliness and merits, learning about science and nature along the way. Featuring illustrations and facts about the thorniest species the animal kingdom has to offer, from the naked mole rat to the goblin shark, aye-aye, sphinx cat, blobfish and many more 'ugly' beauties. This gorgeous hardcover book is illustrated in exquisite detail by exciting new Australian talent, Sami Bayly. ...Show more
$34.99
AUD
Category: Middle Reader | Reading Level: Younger Readers
Lone Annie sees dragons in your future... She sees giants. She sees fire and water. She sees death. Finn's life in the village of Wichant is hard. Only his drawings of the wild coastline, with its dragon-shaped clouds and headlands that look like giants, make him happy. Then the strange housekeeper from a mysterious clifftop mansion sees his talent and buys him for a handful of gold and then reveals to him seven extraordinary paintings. Finn thinks the paintings must be pure fantasy-such amazing scenes and creatures can't be real! He's wrong. Soon he is going to slip through the veil between worlds and plunge into the wonders and perils of The Glimme. ...Show more