$14.99
AUD
Category: Picture Books
This beautiful picture book from the acclaimed partnership of Margaret Wild and Ron Brooks is a glorious celebration of family and new life.
$17.99
AUD
Category: Picture Books
 An inclusive picture book for grandparents everywhere. In every country around the world are grandpas short and tall. Though they go by different names, we love them one and all. From brilliant new talents Ashleigh Barton and Martina Heiduczek, comes a charming and heart-warming book that celebrates th e many different ways we say grandpa. What Do You Call Your Grandpa? is a love letter to grandfathers and families from every corner of the globe.   ...Show more
$17.99
AUD
Category: Picture Books
'Look, Dad! I made you porridge and coffee... together!' Follow Dad as he spends the day with his kids. Laugh along with all the hilarious things they say and do! (*Definitely, maybe, not entirely based on real life!)  
$19.99
AUD
Category: Picture Books
Good dads come in many different shapes and species. Get ready to learn a fatherly trick (or ten) from a whole lot of dads, great and small.  
$16.99
AUD
Category: Picture Books
My dad doesn't like babysitting. He says no one should sit on babies. My dad doesn't eat seafood. He says there's something fishy about it. My dad doesn't lie in bed. He says you should always tell the truth. My dad thinks he's funny.
$16.99
AUD
Category: Picture Books
Did your dad used to be cool? Wondering what happened to his rock band playing, skateboarding days? This funny and relatable story shows children how their parents are still cool after all, even if it's not in quite the same way! Parents and children will both enjoy engaging with this book, presented in Negley's unique style where words are minimal and the emotive illustrations really carry the story along. ...Show more
Grandpa is Great
by Laine Mitchell; Alison Edgson (Illustrator)
$17.99
AUD
Category: Picture Books
My grandpa is happy, Hes kind and so fun. I love my dear grandpa Hes my number one. Share the baby animals' fun with their grandpas as they race, dance, make things and play games together.
$17.99
AUD
Category: Picture Books
Loudest farter? Best storyteller? Bad joke-maker? Spin the spinner and find out which one is about your dad! This novelty book comes with an interactive spinner on the front cover.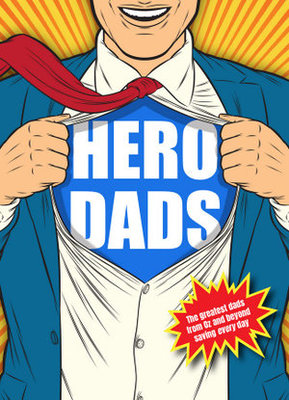 $19.99
AUD
Category: Biographies
This book celebrates the loving, unflappable, occasionally embarrassing and ever-evolving father figure. Plucked from different cultures, places and moments in history, these men embody the everyday heroism that comes with being a dad.     From J R. R. Tolkien to Steve Irwin and Queer Eye's Karamo, t hese blokes have taught us to stand up for what's right, harness the power of imagination and laugh at ourselves even on our worst days.     Featuring charming illustrations from Michael Weldon, HERO DADS is a thank you to the dads who carried us to bed when we fell asleep in the car, who let us dance on their toes, who checked the wardrobe for monsters and who valiantly finished our pizzas when we couldn't stomach another bite. ...Show more
$19.99
AUD
Category: Picture Books
There's only one dad like you, Dad. My hero, friend and guide. You teach me about this great big world  and how to enjoy the ride. Wise dads, caring dads, daring dads, creative dads - each dad brings their own sense of fun. Joyful, tender and heartfelt, THERE'S ONLY ONE DAD LIKE YOU is a celebration of the merry magic of dads. ...Show more
$9.99
AUD
Category: Animals
Did you know that a daddy gorilla is called a silverback and a baby gorilla is called an infant? Or that a daddy turkey is called a gobbler and a baby turkey is called a poult? THE DADDY ANIMAL BOOK is an adorable and informative picture book about baby animals and their dads that is perfect for Father' s Day, from the author of the CBCA Notable THE BABY ANIMAL BOOK and the bestselling 101 COLLECTIVE NOUNS. 'For those interested in words, and especially those with children who have an enquiring mind and a thirst for knowledge, any book by Tasmanian author and artist Jennifer Cossins is ideal.' Kids' Book Review 'Newborns to 6-year-olds will love these books as well as children who are beginning to read or research alone.' Educate. Empower. 'a most entertaining way for children to practice counting, while learning about fascinating critters that inhabit our world. Highly recommended!' Queensland Reviewers Collective on The Ultimate Animal Counting Book 'Cossins' illustration style is at once so naturalistic yet so fun that you'll want to reach into the page to pat the beagle and give the Chihuahua a treat.' Readings Kids on The Ultimate Animal Counting Book ...Show more
$21.99
AUD
Category: Picture Books | Series: Growing Hearts
A little girl honors her dad and all the fun they have together in this sweet companion to "In My Heart, " part of the Growing Hearts series. Full color.