$14.99
AUD
Category: Fun | Series: Tom Weekly Ser.
Is your grandpa super-angry? Has your nan ever tried to climb Mt. Everest? Have you started your own playground freak show? And have you ever risked your life to save your pet rat from certain destruction? I have. I'm Tom Weekly and this is my life. Inside the covers of this book you'll read lots of wei rd-funny-gross stories and learn the secret of my strangest body part. But I guarantee that won't freak you out as much as the story of how Stella Holling, a girl who's been in love with me since second grade, tricked me into kissing her. ...Show more
$14.99
AUD
Category: Fun | Series: The Treehouse
Andy and Terry have added 13 new levels to their treehouse and now it's even more out of this world than before! There's a soap bubble blaster, a GRABINATOR (it can grab anything from anywhere at any time), a time-wasting level, a toilet paper factory (because you can never have too much toilet paper), a room full of mechanical grandparents, a super long legs level, an extraterrestrial observation centre and the best bookshop-in-a-treehouse-in-a-tree-in-a-forest-in-a-book in the whole world! Well, what are you waiting for? Come on up! ...Show more
$16.99
AUD
Category: Fun | Reading Level: 10-13
Albert (Lengy) Lengviriyakul, is fed up with being Thai. His parents own a Thai restaurant with the cheesy name of Thai-riffic! and Lengy is sick of being his father's curry guinea pig, longing to just eat pizza! At school he is a bit of a troublemaker, going to any lengths to hide his background. But w hen his best friend decides to become Thai for a day for a school project, Lengy stubbornly comes to the realization that there may just be some pretty cool things about his culture. ...Show more
$16.99
AUD
Category: Fun
I'm Raymond, and my school is a joke. It's full of bullies and troublemakers.My solution? Be a nobody and fade into the background.But our new principal has blown my cover because he's chosen me as a prefect!It was looking pretty bad, until I made a crazy promise to get new air con for the classrooms.No w I'm REALLY in trouble! ...Show more
$14.99
AUD
Category: Fun
PUBLICATION DELAYED UNTIL FRIDAY, NOVEMBER 13th 2020 In The Deep End, book 15 of the Diary of a Wimpy Kid series from #1 international bestselling author Jeff Kinney, Greg Heffley and his family hit the road for a cross-country camping trip, ready for the adventure of a lifetime. But things take an une xpected turn, and they find themselves stranded at an RV park that's not exactly a summertime paradise. When the skies open up and the water starts to rise, the Heffleys wonder if they can save their vacation-or if they're already in too deep. And don't miss Rowley Jefferson's Awesome Friendly Adventure, an all-new fantasy from Greg's best friend-the follow-up to the instant #1 bestseller Diary of an Awesome Friendly Kid- Rowley Jefferson's Journal. ...Show more
$15.99
AUD
Category: Fun | Series: Buttons McGinty
Comedian Rhys Darby delivers more words AND more pictures in his third hilarious book for kids! B uttons McGinty is back and once again he's travelling through space and time . . . he found Dad in Book 2, but now they're on the trail of Mumsy, who is being held by the evil Queen Zankerflorna! Join Butt ons and his friends as they enter a universe unlike any you've seen before. This time Buttons and the gang are solving mysteries with Morse Code and cryptic hieroglyphs! A full-on mystery-comedy series that will have Darby's fans glued to their seats! ...Show more
$16.99
AUD
Category: Fun
Merdyn the Wild is from the Dark Ages. He's the world's greatest Warlock (don't call him a wizard), banished to the 21st century for bad behaviour, and determined to wreak vengeance on his nemesis. Rose is a totally ordinary girl, on a mission to mend her broken family. Bubbles is Rose's guinea pig. He just poos a lot. When Rose bumps into Merdyn and discovers what he is, she quickly realises that he could be just what she needs. Rose agrees to help Merdyn navigate the confusing ways of the modern world (things like: the lidded bowl in the bathroom is NOT a sink, it's a TOILET, so definitely DON'T wash your face in it) if Merdyn gives her a spell to fix her family in return. Now they just need to hide him in the shed without Rose's mum noticing, track down Merdyn's magic staff and find a way to send Merdyn back through time to the Dark Ages. What could possibly go wrong...? From the writer of the Paddington 2 movie and writer and star of Horrible Histories, this hilariously silly, heartfelt adventure with a historical twist is perfect for fans of David Walliams and David Baddiel. ...Show more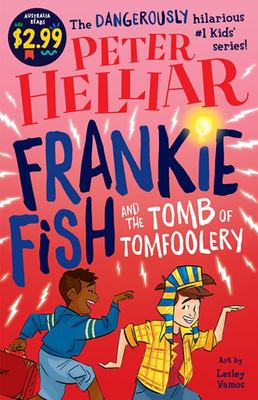 $2.99
AUD
Category: Fun | Series: Frankie Fish Ser.
Frankie Fish is back in a very special mini adventure for Australia Reads! When Frankie and Drew get in an argument about how ancient Egyptians really walked, there's only one way to set the record straight: a quick time-travel adventure! But what happens when Frankie and Drew's precious Sonic Suitcase ends up buried inside a booby-trap-ridden pyramid? There's only one way to get it back - by going inside and hoping they can make it out again ... It's a DANGEROUSLY EXCITING special adventure to celebrate Australia Reads, from favourite comedian and beloved children's author Peter Helliar!   ...Show more
$14.99
AUD
Category: Fun | Series: Toffle Towers Ser.
The fun and frolics continue at Toffle Towers when all of Alandale is snowed in, but guests' precious belongings start to go missing. Is there a thief staying at the hotel? To keep the Toffle Towers guests entertained while they're stuck indoors, and try to catch the culprit, Chegwin puts on a talent s how with a hefty wodge of cash as the prize. To make things worse for the Toffle Towers team, Brontessa Braxton is up to her old tricks again, and Chegwin must beat her in court if he's to save Toffle Towers from yet another takeover attempt. Will Chegwin come up with a plan in time? And will he ever find the missing room and the hotel's mystery guest? ...Show more
$15.99
AUD
Category: Fun | Series: Weirdo
HAPPY BIRTHDAY TO MEEEEE! Not only is it PLANET DAY, its also Weir Dos BIRTHDAY! And his partys going to be so HUGE youll see it from space! It wont be easy... but it will be FUNNY!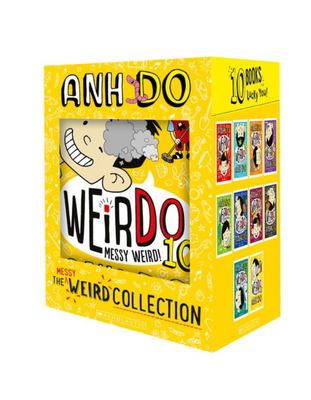 $110.00
AUD
Category: Fun
Weir Do's one of the weirdest kids in school. With an unforgettable name, a crazy family and some seriously weird habits, fitting in won't be easy... But it will be funny! The Messy Weird Collection-it doesn't get any weirder than that! Titles include: WeirDo, Even Weirder, Extra Weird, Super Weird, Tot ally Weird, Crazy Weird, Mega Weird, Really Weird, Spooky Weird and Messy Weird.   ...Show more
$16.99
AUD
Category: Fun
I'm Lengy and I'm Thai. My parents run a restaurant named Thai-riffic! but I'm always craving hot chips and pizza. Mum and Dad's idea of a holiday?Going to Thailand to visit all our relatives. Recipe for getting there? Survive Dr Needlemouse and his arsenal of needles Squeeze in a snappy budget trip to Dreamworld Catch a red-back spider for my Auntie Fight off a savage bat attack Celebrate Christmas, Thai-riffic style! Recipe for surviving the planning? A heap of good luck and plenty of THAI-NO-MITE! Phew! I'll need a holiday after this . . . This hilarious and bestselling author of Thai-riffic! brings us the next instalment of Lengy's adventures. ...Show more