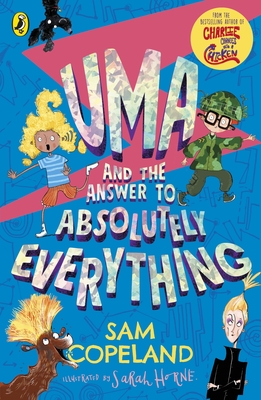 $14.99
AUD
Category: Fun
The hilarious and moving new book from funny fiction superstar Sam Copeland, author of the bestselling Charlie Changes Into a Chicken. Uma Gnudersonn has a head full of questions: How can I save my home from being sold? Will my dad ever start talking again? And how do alpacas get drunk? But since her m um died, Uma's life has been short on answers. Then she finds a genius artificial intelligence called Athena who knows everything. Suddenly Uma has the answer to any question she can imagine - from the capital of Mozambique to the colour of her headteacher's underpants - and she's going to use them to save her home and her father. Along the way, Uma will have to confront the sinister inventor who will stop at nothing to get Athena back - and face up to the fact that not all questions have answers . . . 'Utterly brilliant' - Eoin Colfer, author of Artemis Fowl --- Praise for Charlie Changes Into a Chicken: 'Belly-busting hilarity' The Guardian 'The modern masterpiece . . . this savvy, comic tale ticks every box' The Daily Telegraph 'The best kind of silly' The Observer 'Laugh-out-loud funny' The Mail on Sunday ...Show more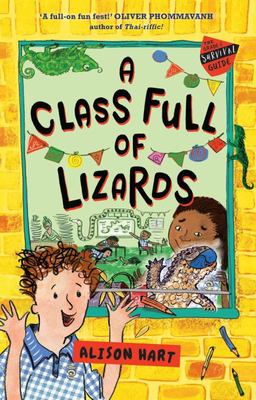 $14.99
AUD
Category: Fun | Series: The Grade Six Survival Guide
In this hilarious sequel to School Rules are Optional, Jesse is back with even more hysterical antics as he navigates the worst family health kick ever and the chaotic end of Grade Six.
$14.99
AUD
Category: Fun
Even before all this happened I had never been like the other kids. I tried not to be seen. If I climbed a tree or hid among the bins, no one could find me. "Where's What's His Name?" they'd say. Then, one weekend, I got what I wanted. First, I blended in with things. But on the second day I changed. I mean, really changed. The hilarious story of a boy with an unusual problem, from children's book legend Paul Jennings. Includes fantastic look-and-find color illustrations. ...Show more
$14.99
AUD
Category: Fun
He's the first teacher to cook us breakfast. Is his spark-maker beetle really that dangerous? I heard he drank yak's milk in Mongolia. He's the only person who isn't afraid of Canteen Carol. My mum says he used to be in the circus. The class in room 12B has a new teacher, and nothing is ever going to b e the same . . . ...Show more
$15.99
AUD
Category: Fun
The Cook-Off is on! Weir and his friends have their eyes on the prizea trip to Queen Bubblegums LOLLY FACTORY! Will the battle be a piece of cake?! It wont be easy... but it will be funny!
$14.99
AUD
Category: Fun | Series: Awesome Friendly Kid
Scare yourself silly with Rowley Jefferson's Awesome Friendly Spooky Stories by Jeff Kinney, the #1 international bestselling author of Diary of a Wimpy Kid! Grab a flashlight, crawl under the covers, and dive into the twisted, unexpectedly hilarious world of Rowley Jefferson's imagination. You'll meet zombies, vampires, ghosts, and much more in these comically terrifying tales. Rowley's spooky stories might leave you laughing, but beware-you could end up sleeping with the lights on! And don't miss Rowley Jefferson's first two awesome friendly books, the instant #1 bestsellers Diary of an Awesome Friendly Kid- Rowley Jefferson's Journal and Rowley Jefferson's Awesome Friendly Adventure! ...Show more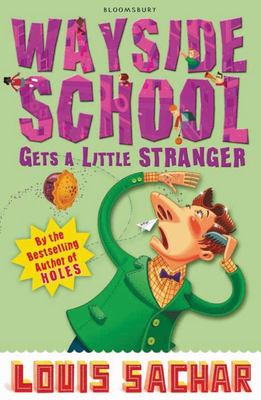 $14.99
AUD
Category: Fun | Series: Wayside School | Reading Level: From 7
All the kids from Wayside School had to spend 243 days in horrible schools while Wayside was closed to get rid of the infestation of cows! Now the kids are back and the fun begins again on every floor. Miss Mush has prepared a special lunch of baked liver in purple sauce and it is pet day on the 30th fl oor. There are dogs and cats and frogs and skunks and an orange named Fido, causing a terrible commotion. But the biggest surprise of all is that Mrs Jewls is expecting a baby and a substitute teacher is coming, and everyone knows what that means . . . Wayside School is going to get a little stranger. ...Show more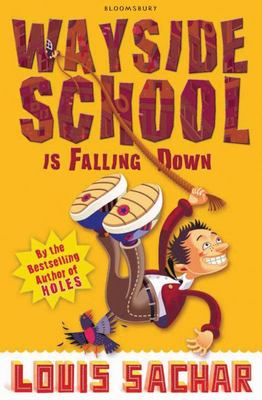 $14.99
AUD
Category: Fun | Series: Wayside School | Reading Level: From 7
'Watch closely,' said Mrs Jewls. 'You can learn much faster using a computer instead of paper and pencil.' Then she pushed the computer out of the window. The children all watched it fall thirty floors. 'See?' said Mrs Jewls. 'That's gravity . . .' That's the way things happen at Wayside School. There are twenty-nine kids in Mrs Jewls' class and this book is about all of them: there is Todd, who is in trouble every day, until he gets a magic dog; Paul, whose life is saved by Leslie's pigtails; Ron, who dares to try the cafeteria's mushroom surprise; and all the others who help turn a day at Wayside School into one madcap adventure after another. ...Show more
$14.99
AUD
Category: Fun | Series: Frankie Fish Ser.
From Australia's favourite comedian and beloved children's author Peter Helliar comes the final adventure in his bestselling Frankie Fish series.  When Frankie and his best friend Drew head back to the Middle Ages for one last trip with the Sonic Suitcase, they're in for some strange surprises. What kin d of knight rides a pig into battle? Who's the mysterious stranger who turns up right when Frankie's in serious trouble? And what could possibly make Drew want to stay in the Middle Ages forever?​ Only one thing is certain: Frankie's last time-travel adventure will be one to remember …​ The sixth Frankie Fish adventure is finally HERE! Peter Helliar's hilarious bestselling series is back and our favourite time-travellers, Frankie and Drew, are on their biggest mission yet …   ...Show more
$14.99
AUD
Category: Fun | Series: Treehouse
The latest addition to Andy Griffiths and Terry Denton's internationally phenomenal Treehouse series.Andy and Terry live in the world's craziest treehouse. They like making books and telling jokes. And now they've made the world's funniest joke book. Again!From fairytale fun to classroom capers and movi e madness, there are jokes galore for the whole family. An especially perfect book for fans of the Treehouse series. Q: What did one ghost say to the other ghost? A: Do you believe in people? ...Show more
$14.99
AUD
Category: Fun | Series: Funny Kid
Ready to see a real-life alien? Laugh your head off with the super-popular Funny Kid series! Every kid wants to laugh, but Max is the boy who can make it happen. He's also the kid who wants to spend the most boring school holidays ever coming up with the greatest prank of all time. Max is the funny kid and it's time to prank the world! Conspiracy theories, crop circles, alien invasions, a mayor who has lost his marbles and the most Un-Fun Fair in the universe are just some of the things in store for Max and his friends in this new Funny Kid adventure. ...Show more
$14.99
AUD
Category: Fun
There are Scaredy Cats everywhere . . . it's just that YOU can't see them. Only cats can see a Scaredy Cat. When shelter cats Pasha and Poop move in with their new human family, they find themselves up against a ghostly bully. Scaredy Cat demands they follow his rules or he'll cause all kinds of troubl e - knock over lamps, spill kitty litter, and even get them shipped back to the animal shelter! But Pasha and Poop are stubborn and rebellious. They won't follow the Scaredy Cat's ridiculous rules like all of the other pets on the block. Together, they set out to find the truth behind who the Scaredy Cat really is, and how they can end his mischief-making for good. ...Show more