$14.99
AUD
Category: Fun
The hilarious and moving new book from funny fiction superstar Sam Copeland, author of the bestselling Charlie Changes Into a Chicken. Uma Gnudersonn has a head full of questions: How can I save my home from being sold? Will my dad ever start talking again? And how do alpacas get drunk? But since her m um died, Uma's life has been short on answers. Then she finds a genius artificial intelligence called Athena who knows everything. Suddenly Uma has the answer to any question she can imagine - from the capital of Mozambique to the colour of her headteacher's underpants - and she's going to use them to save her home and her father. Along the way, Uma will have to confront the sinister inventor who will stop at nothing to get Athena back - and face up to the fact that not all questions have answers . . . 'Utterly brilliant' - Eoin Colfer, author of Artemis Fowl --- Praise for Charlie Changes Into a Chicken: 'Belly-busting hilarity' The Guardian 'The modern masterpiece . . . this savvy, comic tale ticks every box' The Daily Telegraph 'The best kind of silly' The Observer 'Laugh-out-loud funny' The Mail on Sunday ...Show more
$16.99
AUD
Category: Fantasy | Series: A Widdershins Adventure
From the bestselling author of A PINCH OF MAGIC and A SPRINKLE OF SORCERY comes a thrilling story of sisters, spells and witches.   Everyone knows that magic and trouble go hand in hand... A dangerous spell cast over an unsuspecting village.  An enchanted painting locked in a hidden room. A desperate race against time to break the spell before it's too late... It should have been a fresh start for the Widdershins. Finally free from the misty gloom of Crowstone and beginning a new life. But all is not as it seems in their postcard-pretty village. Their neighbours are acting strangely, and why do they flinch at the mere mention of magic? The Widdershins sisters have their own secret: a set of enchanted nesting dolls with the power to render their user invisible. The sisters must use their wits - and their magic - if they're to break the dark hold over the village, and save one of their own . . . but have they met their match this time?   Praise for A Sprinkle of Sorcery: 'Harrison's masterful series continues with great heart and excitement' Waterstones 'Harrison's fully imagined world has conviction, and the perils of the story are lightened by the warmth and spirit of its characters' The Sunday Times Praise for A Pinch of Magic: 'BRILLIANT' Emma Carroll, author of Letters From The Lighthouse 'Simply phenomenal!' Sophie Anderson, author of The House With Chicken Legs 'I was utterly captivated by the Widdershins sisters' Lisa Thompson, author of The Goldfish Boy 'Gutsy and rude, full of warts-and-all family love, Harrison's latest has the wry enchantment of an E Nesbit classic' Guardian 'A fabulous magical adventure' Sunday Express 'Fantasy and adventure appear on every page of this spellbinding tale'  Daily Mail     ...Show more
$14.99
AUD
Category: Fantasy | Series: The Storm Keeper Trilogy
Fionn Boyle, Storm Keeper of Arranmore, is facing the fight of his life. The terrifying all- powerful sorceress Morrigan has been raised from the dead and has sealed off the island from all help. Fionn is the only thing that stands between her and a dark future. He's got to find a way to defeat her. But there are some terrible choices in store for Fionn as the dark sorcerer begins to take his nearest and dearest for her own. With only two candles left to burn, will Fionn master his powers in time to stop her?   ...Show more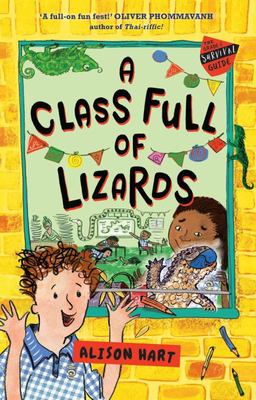 $14.99
AUD
Category: Fun | Series: The Grade Six Survival Guide
In this hilarious sequel to School Rules are Optional, Jesse is back with even more hysterical antics as he navigates the worst family health kick ever and the chaotic end of Grade Six.
$16.99
AUD
Category: Realistic Fiction | Series: Specky Magee | Reading Level: 10+
Player Profile: Name: Simon 'SPECKY' MageeAge: 13Code: Australian Rules FootballTeam: Booyong High Lions, Under 14'sPosition played: Star forward. Known for his SPEC-tacular marking ability and for kicking plenty of goals.What to expect this season: Specky comes face to face with a tough, talented play er by the name of Derek 'Screamer' Johnson. He was responsible for having Specky sent off during a game last season. The two boys become bitter rivals and when a popular TV show runs a nationwide football contest, Specky is relieved when everyone except Screamer decides to enter. But why is Screamer such a bully on the field? And why is he sucking up to Specky's team-mates?Guaranteed highlights: Incredible footy action by Specky, a surprise trip and the introduction of some terrific new friends. Question on everyone's lips: A true champion in the making, but is Specky good enough to win the Great Footy Contest? By the bestselling authors of Specky Magee. Visit www.speckymagee.com.au for more ...Show more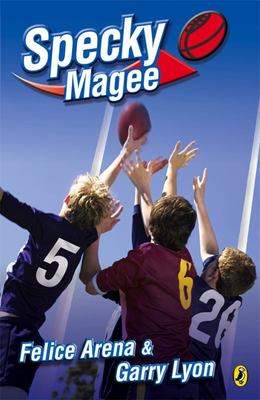 $16.99
AUD
Category: Realistic Fiction | Series: Specky Magee Ser.
The football adventure that started it all!Simon Magee is twelve and mad about Aussie Rules. He's even got a nickname - 'Specky' - because he takes such spectacular marks. But his family hates footy... So why is there a baby photo of him dressed in footy gear? Determined to find out the truth, Specky un covers more than he ever bargained for.Specky Magee is a one gulp book to be read fast and easily . . . Australian Book ReviewIt's encouraging Aussie Kids to read and enjoy Aussie culture . . . Eddie McGuire, the Herald Sun  ...Show more
$14.99
AUD
Category: Fun
Even before all this happened I had never been like the other kids. I tried not to be seen. If I climbed a tree or hid among the bins, no one could find me. "Where's What's His Name?" they'd say. Then, one weekend, I got what I wanted. First, I blended in with things. But on the second day I changed. I mean, really changed. The hilarious story of a boy with an unusual problem, from children's book legend Paul Jennings. Includes fantastic look-and-find color illustrations. ...Show more
$14.99
AUD
Category: Fun
He's the first teacher to cook us breakfast. Is his spark-maker beetle really that dangerous? I heard he drank yak's milk in Mongolia. He's the only person who isn't afraid of Canteen Carol. My mum says he used to be in the circus. The class in room 12B has a new teacher, and nothing is ever going to b e the same . . . ...Show more
Fox Swift (#1)
by David Lawrence; Cyril Rioli
$16.95
AUD
Category: Realistic Fiction
FOX SWIFT is a brilliant and engaging new football book for children. Combining a gripping, laugh-out-loud story with expert football tips and training drills from Hawthorn superstar Cyril Rioli, as well as witty cartoons, FOX SWIFT is the perfect read for any child who's passionate about Aussie Rules. Fox Swift is an 11-year-old football star. When his family moves from the city to the small country town of Davinal, Fox has to choose which of the town's two teams to join: the rich Dragons, which attracts all the best young footballers, or the Diggers, a struggling club that battles to field a side each week. Following a run-in with the captain of the Dragons, Fox decides to join the Diggers, and even manages to recruit a few new players-- two Sudanese refugees, the mumbling but super-tough son of a farmer, and a girl who plays in a helmet to disguise her identity--and even a new coach. When the coach contacts AFL 'magician' Cyril Rioli, the Aussie Rules superstar agrees to lend his football expertise to the struggling team. With Cyril's help, can the Diggers change their fortunes and win the premiership? And can Fox and his new friends prevail over the school bullies? Combining the sporting prowess of Cyril Rioli, the wickedly funny words of comedic writer David Lawrence, and the delightful drawings of Jo Gill, Fox Swift is page-turner that will have children anxiously anticipating the next instalment. ...Show more
$14.99
AUD
Category: Fantasy | Series: Wings of Fire
Everyone knows the legends... but does anyone know the truth? Fierceteeth, a NightWing obsessed with what could have and should have been. Deathbringer, desperate to prove himself as the next great NightWing assassin. Six-Claws, a loyal SandWing, who will soon find that loyalty comes with a price. Foesl ayer the NightWing, a dragon in love turned kidnapper, and Prince Arctic of the IceWings, a runaway turned captive. In these four short stories, dig deeper into the world of Pyrrhia to discover what really happened.   ...Show more
$15.99
AUD
Category: Realistic Fiction | Series: Ella at Eden Ser.
The girls from Eden College are going on a camping trip to Mount Midnight National Park. Ella is nervous but excited about camping in a tent in the middle of the bush. But after some confusion with the groups, Ella and her friends become lost in the National Park. Can they survive the wilderness and get back to their class? ...Show more
$15.99
AUD
Category: Fun
The Cook-Off is on! Weir and his friends have their eyes on the prizea trip to Queen Bubblegums LOLLY FACTORY! Will the battle be a piece of cake?! It wont be easy... but it will be funny!