A genre of stories that are made up and include ideas that could not happen in real life, often involving magical or supernatural elements, such as talking animals.
$16.99
AUD
Category: Fantasy | Series: A Widdershins Adventure
From the bestselling author of A PINCH OF MAGIC and A SPRINKLE OF SORCERY comes a thrilling story of sisters, spells and witches.   Everyone knows that magic and trouble go hand in hand... A dangerous spell cast over an unsuspecting village.  An enchanted painting locked in a hidden room. A desperate race against time to break the spell before it's too late... It should have been a fresh start for the Widdershins. Finally free from the misty gloom of Crowstone and beginning a new life. But all is not as it seems in their postcard-pretty village. Their neighbours are acting strangely, and why do they flinch at the mere mention of magic? The Widdershins sisters have their own secret: a set of enchanted nesting dolls with the power to render their user invisible. The sisters must use their wits - and their magic - if they're to break the dark hold over the village, and save one of their own . . . but have they met their match this time?   Praise for A Sprinkle of Sorcery: 'Harrison's masterful series continues with great heart and excitement' Waterstones 'Harrison's fully imagined world has conviction, and the perils of the story are lightened by the warmth and spirit of its characters' The Sunday Times Praise for A Pinch of Magic: 'BRILLIANT' Emma Carroll, author of Letters From The Lighthouse 'Simply phenomenal!' Sophie Anderson, author of The House With Chicken Legs 'I was utterly captivated by the Widdershins sisters' Lisa Thompson, author of The Goldfish Boy 'Gutsy and rude, full of warts-and-all family love, Harrison's latest has the wry enchantment of an E Nesbit classic' Guardian 'A fabulous magical adventure' Sunday Express 'Fantasy and adventure appear on every page of this spellbinding tale'  Daily Mail     ...Show more
$14.99
AUD
Category: Fantasy | Series: The Storm Keeper Trilogy
Fionn Boyle, Storm Keeper of Arranmore, is facing the fight of his life. The terrifying all- powerful sorceress Morrigan has been raised from the dead and has sealed off the island from all help. Fionn is the only thing that stands between her and a dark future. He's got to find a way to defeat her. But there are some terrible choices in store for Fionn as the dark sorcerer begins to take his nearest and dearest for her own. With only two candles left to burn, will Fionn master his powers in time to stop her?   ...Show more
$16.99
AUD
Category: Fantasy
In her wildest dreams, Sophie never thought she might be kidnapped by a cat and taken to a world of flying horses and wonder - but also magic, mystery and danger! Transported to the land of Tuscia, Sophie accidentally saves the daughter of a wealthy family and is swept along on their journey to the Gol den Tower. Now she is the only one standing between sisters Isabella and Bia and the terrible fate their stepmother has planned. Sophie doesn't think she is brave enough, but with the help of a talking cat, a stableboy and some very tiny mischief-makers, she might be able to save the day. ...Show more
$16.99
AUD
Category: Fantasy | Series: Wings of Fire
Snowfall didn't expect to be queen of the IceWings at such a young age, but now that she is, she's going to be the best queen ever. All she has to do is keep her tribe within IceWing territory, where its safewhile keeping every other tribe out, where they belong. It's a perfect and simple plan, backed u p by all the IceWing magic Snowfall can find. That is, until a storm of unidentified dragons arrives on her shore, looking for asylum. The foreigners are completely strange and, Snowfall is certain, utterly untrustworthy. But as she escorts the miserable new tribes out of her kingdom, Snowfall is forced to reconsider her plan. Maybe she can only keep her tribe safe... if she's willing to risk everything. ...Show more
$14.99
AUD
Category: Fantasy | Series: Dragon Realm
The second adventure in the ROARsome DRAGON REALM series for 9+ readers! Perfect for readers looking for edge-of-your-seat adventure. Billy Chan and his friends are not having a very relaxing summer. Their friend, Dylan, has been kidnapped by the evil Dragon of Death and it's up to them to travel throu gh time, back to the dangerous Dragon Realm, in order to save him. Luckily they have their own dragons on side, but they'll need to collect eight magical pearls if they're to amass enough power to destroy the Dragon of Death and her followers for good. So begins an epic quest that will take them to the depths of the Frozen Wasteland and the imperial palaces of Ancient China. But can good triumph evil...?   ...Show more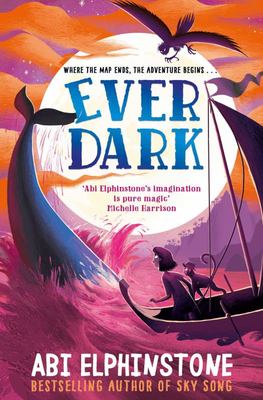 $14.99
AUD
Category: Fantasy
The stunning prequel to Abi Elphinstone's mesmerising The Unmapped Chronicles series. Magic, adventure, and a whole new world is waiting to be discovered! The Unmapped Chronicles will not only leave children entertained, but will also empower them to battle climate change and environmental issues. Whe re the map ends, the adventure begins . . . It is midnight in Crackledawn - a midnight full of magic. Sea dragons stir in the depths of the ocean, silver whales surface beneath the moon and sand goblins line the shores. Everyone is waiting for the phoenix, the guardian of the kingdom's magic, to rise up from the forests of Everdark. But there is no sign of the phoenix tonight. Something else surges up out of Everdark instead: a harpy bent on stealing Crackledawn's magic. It is up to an eleven-year-old girl called Smudge and a grumpy monkey called Bartholomew to set sail beyond the legendary Northswirl and stop the harpy before it's too late. So, grab your compass and roll down your sail - the first adventure in THE UNMAPPED CHRONICLES is about to begin . . .  ...Show more
$16.99
AUD
Category: Fantasy
Pearl and Vally Cole live in a bookshop. And not just any bookshop. In 1893, Cole's Book Arcade in Melbourne is the grandest bookshop in the world, brimming with every curiosity imaginable. Each day brings fresh delights for the siblings: voice-changing sweets, talking parrots, a new story written just for them by their eccentric father. When Pearl and Vally learn that Pa has risked the Arcade - and himself - in a shocking deal with the mysterious Obscurosmith, the siblings hatch a plan. Soon they are swept into a dangerous game with impossibly high stakes: defeat seven challenges by the stroke of midnight and both the Arcade and their father will be restored. But if they fail Pearl and Vally won't just lose Pa - they'll forget that he and the Arcade ever existed. ...Show more
$18.99
AUD
Category: Fantasy
Set in a broken, future England, where gunfights and monsters collide, this is the exciting first title in a phenomenal fantasy teen series by the bestselling children's novelist. England has been radically changed by a series of catastrophes – large cities have disappeared and London has been replaced by a lagoon. The surviving population exists in fortified towns where they cling to traditional ways, while strangely evolved beasts prowl the wilderness beyond. Conformity is rigidly enforced and those who fall foul of the rules are persecuted: some are killed, others are driven out into the wilds. Only a few fight back – and two of these outlaws, Scarlett McCain and Albert Browne, display an audacity and talent that makes them legends. ...Show more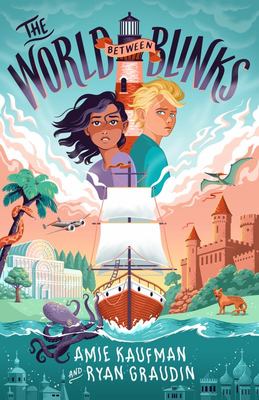 $16.99
AUD
Category: Fantasy | Series: The\World Between Blinks Ser.
Discover a magical world where lost things are found ... Whenever cousins Jake and Marisol get together, adventure follows. They have their late Nana to thank for that. Her epic trips and treasure hunts were the stuff of family legend. This summer, with the whole family reuniting for one last vacation at Nana's home, the cousins are in for a legendary trip of their own. Following a map Nana left behind, Jake and Marisol sneak out to a nearby lighthouse - then accidentally slip into another world ... The World Between Blinks is a magical place, where all kinds of lost things (and people!) end up. Everywhere they turn, the cousins find real mysteries from history - plus a few they thought were only myths. But the man who holds the key to Jake and Marisol's return journey doesn't want to be found ... and if the cousins don't catch him fast, they could end up lost in this world for good. PRAISE FOR THE WORLD BETWEEN BLINKS:' An inventive, heartwarming first book in a new middle-grade series.'- Kirkus 'A brilliant, heartwarming blend of history, mystery, and adventure. I raced through every page, afraid to blink and miss part of the wonder.'- Shannon Messenger, bestselling author of Keeper of the Lost Cities Series 'A fast-paced fantasy adventure that will appeal to genre fans and reluctant middle grade readers alike.'- School Library Journal, starred review '[an] incredibly inventive story, chock-full of delightful descriptions and fascinating tidbits ... [and] a charming crash course in a host of historical mysteries and figures. Readers will have enormous fun ... all while learning lessons on the power of love, the value of memories, and the wonders that the world holds.' - Booklist, starred review ...Show more
$15.99
AUD
Category: Fantasy | Series: Rise of the Mythix
Enter the Griffin!The Unicorn, Minotaur and Griffin are united at last. Surely together they will be unstoppable! But the evil Collector is not going to give up without an epic fight, and not all the beasts of legend are on the side of good...Will our heroes finally fulfill their destiny? 
$19.99
AUD
Category: Fantasy | Series: Skulduggery Pleasant
Skulduggery, Valkyrie and Omen return in the 14th and penultimate novel in the internationally bestselling Skulduggery Pleasant series – and their most epic test yet… In a matter of days, the world will change. Billions of lives will be wiped away in a final, desperate search for the Child of the Facel ess Ones - she who is destined to bring about the return of humankind's ancient overlords. To prevent this, Skulduggery Pleasant and Valkyrie Cain have one last – terrible – option: the assassination of Damocles Creed. With protests stirring in the magical city of Roarhaven, with riots and revolutions on the horizon, Valkyrie must decide who she wants to be: the hero who risks everything for a noble ideal, or the killer who sacrifices her own soul for the fate of humanity. The decision must be made, and time is running out.   ...Show more
$16.99
AUD
Category: Fantasy | Series: Warriors Super Edition
An epic stand-alone adventure in Erin Hunter's #1 nationally bestselling Warriors series Also includes an exclusive ten-page Warriors manga adventure. In this Super Edition, set just after the events of A Vision of Shadows, ThunderClan deputy Squirrelflight is caught between her conscience and her Clan . Though all five Clans have settled into equally divided territories around the lake, tensions are rising over the new borders. And when a group of rogue cats move in just beyond Clan boundaries, drawing the Clans' frustration, Squirrelflight must choose between her duty as ThunderClan's deputy and her desire to do what's right. Join the legion of fans who have discovered the epic adventures, fierce warrior cats, and thrilling fantasy world of the mega-bestselling Warriors series. This stand-alone entry is perfect for new readers and dedicated fans alike. ...Show more