A genre of stories that are made up but could very well happen in real life. These stories often take place in settings familiar to your child — like schools — which makes them more relatable.
$12.99
AUD
Category: Realistic Fiction
Discover the amazing achievements of fan favorite two-time MVP Stephen Curry in this brand-new, comprehensive biography. Steph Curry is a two-time NBA Most Valuable Player, record-breaker, and Finals champion who electrifies fans with his incredible on-court feats. He's also a dedicated husband, father, and philanthropist who inspires people on and off the court. Learn more about this remarkable athlete in this biography, complete with stats and photographs. ...Show more
$16.99
AUD
Category: Realistic Fiction | Series: Specky Magee | Reading Level: 10+
Player Profile: Name: Simon 'SPECKY' MageeAge: 13Code: Australian Rules FootballTeam: Booyong High Lions, Under 14'sPosition played: Star forward. Known for his SPEC-tacular marking ability and for kicking plenty of goals.What to expect this season: Specky comes face to face with a tough, talented play er by the name of Derek 'Screamer' Johnson. He was responsible for having Specky sent off during a game last season. The two boys become bitter rivals and when a popular TV show runs a nationwide football contest, Specky is relieved when everyone except Screamer decides to enter. But why is Screamer such a bully on the field? And why is he sucking up to Specky's team-mates?Guaranteed highlights: Incredible footy action by Specky, a surprise trip and the introduction of some terrific new friends. Question on everyone's lips: A true champion in the making, but is Specky good enough to win the Great Footy Contest? By the bestselling authors of Specky Magee. Visit www.speckymagee.com.au for more ...Show more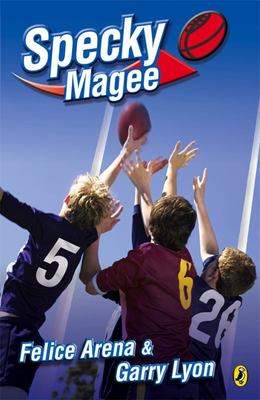 $16.99
AUD
Category: Realistic Fiction | Series: Specky Magee Ser.
The football adventure that started it all!Simon Magee is twelve and mad about Aussie Rules. He's even got a nickname - 'Specky' - because he takes such spectacular marks. But his family hates footy... So why is there a baby photo of him dressed in footy gear? Determined to find out the truth, Specky un covers more than he ever bargained for.Specky Magee is a one gulp book to be read fast and easily . . . Australian Book ReviewIt's encouraging Aussie Kids to read and enjoy Aussie culture . . . Eddie McGuire, the Herald Sun  ...Show more
$15.99
AUD
Category: Realistic Fiction | Series: Ella at Eden Ser.
The girls from Eden College are going on a camping trip to Mount Midnight National Park. Ella is nervous but excited about camping in a tent in the middle of the bush. But after some confusion with the groups, Ella and her friends become lost in the National Park. Can they survive the wilderness and get back to their class? ...Show more
$16.99
AUD
Category: Realistic Fiction
It's midnight and I'm alone in the kitchen eating a cold potato scallop. Coach O'Call would say something like, 'That's not what I expect from a scholarship girl!' because I have to be up for squad training in five hours and I'm not supposed to go near potato scallops, and--oh, yeah--it's my fifth. Cat has recently started at a new school on a sports scholarship, and she's feeling the pressure of early morning training sessions and the need for total commitment. Fanny loves to swim and she lives for racing, but family chores and low expectations for girls make it very hard for her to fit in even the occasional training session. Cat and Fanny have never met. They both live in the same Sydney suburb, but in different worlds, or at least different times: Cat in current-day Sydney, and Fanny in 1908. But one day, time slips and they swap places. As each girl lives the other's life, with all the challenges and confusion it presents, she comes to appreciate and understand herself and the role of swimming in her own life. Narrated in alternating chapters by Cat and Fanny, Elsewhere Girlsis a moving and funny story of two girls with a deep connection, one based on the Australian Olympic champion, Fanny Durack. It's a fresh and engaging exploration of the challenges and pressures for young women growing up in the past and today. Emily Galeand Nova Weetmanare friends and writers. They both live in Melbourne--at the same time--and they love swimming. Emily has been involved in the children's book industry for twenty years. Her books include Eliza Boom's Diary, Girl, Aloud, Steal My Sunshineand The Other Side of Summerand its companion novel I Am Out with Lanterns. Nova has written thirteen books for young adults and children. Her middle grade books include the much-loved novels The Secrets We Keep, The Secrets We Shareand Sick Bay. ...Show more
$16.99
AUD
Category: Realistic Fiction
An exquisite, heartbreakingly beautiful gem of a novel for anyone who loved Wonder, Lenny's Book of Everything, A Monster Calls or When You Reach Me.'Heart-twisting and hopeful, bursting with big feelings and gentle magic. This is a special book from a powerful, compassionate new voice in children's lit erature, destined to be read and loved for generations and held close in many hearts (including mine).' - Jessica Townsend, New York Times bestselling author of the Nevermoor seriesMeixing Lim and her family have arrived at the New House in the New Land, inherited from First Uncle who died tragically and unexpectedly while picking oranges in the backyard. Everything is vast and unknown to Meixing and not in a good way, including the house she has dubbed Big Scary. She is embarrassed by the second-hand shoes given to her by the kind neighbours, has trouble understanding the language at school, and with fitting in and making new friends. Her solace is a glasshouse in the garden that inexplicably holds the sun and the moon and all the secrets of her memory and imagination. Her fragile universe is rocked when tragedy strikes and Ma Ma refuses to face the world outside. Meixing finds herself trapped within the shrinking walls of Big Scary. Her parents said this would be a better life for them all, but it feels like the worst and most heart-breaking experience of Meixing's entire existence. Surviving will take all the resilience and inner belief of this brave girl to turn their world around. ...Show more
$16.99
AUD
Category: Realistic Fiction | Series: Maddie Ziegler Presents | Reading Level: 8 Kids Middle Readers
After a successful first competition, twelve-year-old Harper is eager to keep on making her mark in Dance Starz, But lately, she's having a bit of "dancer's block," In her one-on-one with her teacher, Harper is reminded that dancing isn't just about the spins and leaps; it's about the emotion and passio n for dancing, too. And lately, she hasn't felt that Harper has been living up to her usual standards. Vanessa will be choosing the first soloist to compete at the next competition for the team, and suggests to Harper that she find a way to figure out how to get that mojo back. Thanks to a chance conversation, Harper joins the school musical. Not only is this an opportunity to polish up her stage presence, but as the newbie at school, Harper is excited to make some more friends. But some of the teammates are not thrilled that Harper has to do something else other than dance team. Plus, their biggest rivals, The Bells, are looking to go toe-to-toe with them in the upcoming competition-and both teams have something to prove. Harper realizes that the musical, dance team, and school might be a little much. Can she figure out how to find her balance-on-stage and off?   ...Show more
$16.99
AUD
Category: Realistic Fiction
A delightfully funny and deeply relatable junior fiction story from one of Australia's most loved multi-media stars. Meet Stevie Louise. She is an entrepreneur (that's like a business person), an entertainer (obviously), and an extrovert on the inside (wait, is this a thing?). Stevie has a BRILLIANT PLA N. She's going to have fun, make money, and most importantly, make sure the Brooke Street kids stay best friends forever. Then a new neighbour arrives and threatens to derail all Stevie's plans. And then real disaster strikes. But the show must go on. After all, Stevie is a professional. A gloriously warm, funny and relatable story from much-loved comedian, writer, radio announcer and social media sensation Tanya Hennessy.   ...Show more
$16.99
AUD
Category: Realistic Fiction | Series: The Audition Trilogy
Bunheads meets The Kicks in this first novel in a brand-new middle grade trilogy from New York Times bestselling author, dancer, model, and actress Maddie Ziegler Twelve-year-old Harper has been dancing practically since she could walk. She loves her dance studio and team, and just won her first ever top junior solo in a regional competition. But right before the school year starts, Harper's parents drop a bombshell--the family has to relocate from their cozy town in Connecticut to sunny Florida for their jobs. That means goodbye to her friends, dance team, trips to see shows in NYC--and did she mention dance team? When she arrives at her new dance school and new team, it feels like everyone has better feet, quicker turns and faster taps than Harper. And it doesn't help that a group of girls, who nicknamed themselves The Bunheads, wonder how the heck she made the team if she can't even do a simple turn sequence in front of the class. Thankfully, Harper befriends Lily, a fellow newbie in the studio who is just as eager to make her mark and find a friendly face. With a big competition coming up for the dance team, Harper is determined to show everyone--especially those Bunheads--what she's made of. And when a very badly timed injury threatens all of the work they have done, The Bunheads, Lily, and Harper must learn to truly work together to give them their best shot at the top spot ...Show more
$19.99
AUD
Category: Realistic Fiction
Imagine making friends with a polar bear... The Last Bear is perfect for readers of 8+, beautifully illustrated throughout by Levi Pinfold - winner of the Kate Greenaway Medal and illustrator of Harry Potter 20th anniversary edition covers. "This is an important first novel, important for us, for pola r bears, for the planet. It is deeply moving, beautifully told, quite unforgettable." Michael Morpurgo. There are no polar bears left on Bear Island. At least, that's what April's father tells her when his scientific research takes them to this remote Arctic outpost for six months. But one endless summer night, April meets one. He is starving, lonely and a long way from home. Determined to save him, April begins the most important journey of her life... This moving story will win the hearts of children the world over and show them that no one is too young or insignificant to make a difference. The Last Bear is a celebration of the love between a child and an animal, a battle cry for our world and an irresistible adventure with a heart as big as a bear's. ...Show more
Paws
by Kate Foster
$16.99
AUD
Category: Realistic Fiction
At home, Alex's best friend is Kevin the cockapoo, although what he wants most of all is a friend at school. But that is harder than he ever expected. A touching story about learning that friendship isn't one size fits all and is often found where you least expect it. Everything is changing for 11-year- old Alex and, as an autistic person, change can be terrifying. With the first day of high school only a couple of months away, Alex is sure that having a friend by his side will help. So, he's devised a plan - impress the kids at school by winning a trophy at the PAWS Dog Show with his trusty sidekick, Kevin. This should be a walk in the park . . . right?   ...Show more
$14.99
AUD
Category: Realistic Fiction
Huda's sitting in the airport lounge, fiddling with our tickets. I can tell she's excited because she has a little smile on her face and she keeps glancing at her pink digital watch. I can't believe we're doing this. I can't believe we're running away from home. Well, we're not really running away. We'l l come back. We're running to our parents. On the other side of the world. When their parents have to travel to Beirut unexpectedly, twelve-year-old Akeal and his six siblings are horrified to be left behind in Melbourne with the dreaded Aunt Amel as their babysitter. Things do not go well, and Akeal's naughty little sister, Huda, hatches a bold plan to escape. After stealing Aunt Amel's credit card to buy plane tickets to Lebanon, Huda persuades her reluctant favourite brother to come with her. So begins Huda and Akeal's hair-raising and action-packed journey to reunite with their parents half a world away, in a city they've grown up dreaming about but have never seen.   ...Show more