18+ BOOK CLUB
We have 3 Book Clubs operating, each group meets on a specific night of each month. Currently they are full. If you would like to register for our waitlist please send us an email : info@escapehatchboxes.com.au
First Tuesday - 7:30pm
Second Wednesday - 6:30pm
Third Thursday - 6:30pm
KIDS BOOK CLUB
We are introducing a Kids Book Club for Term 3 2021. We will meet on a Tuesday after school twice during term to discuss the book and have some book related fun.
You can join other readers who love good stories on Tuesday 10th August at Escape Hatch Books from 4:30pm until 5:15pm.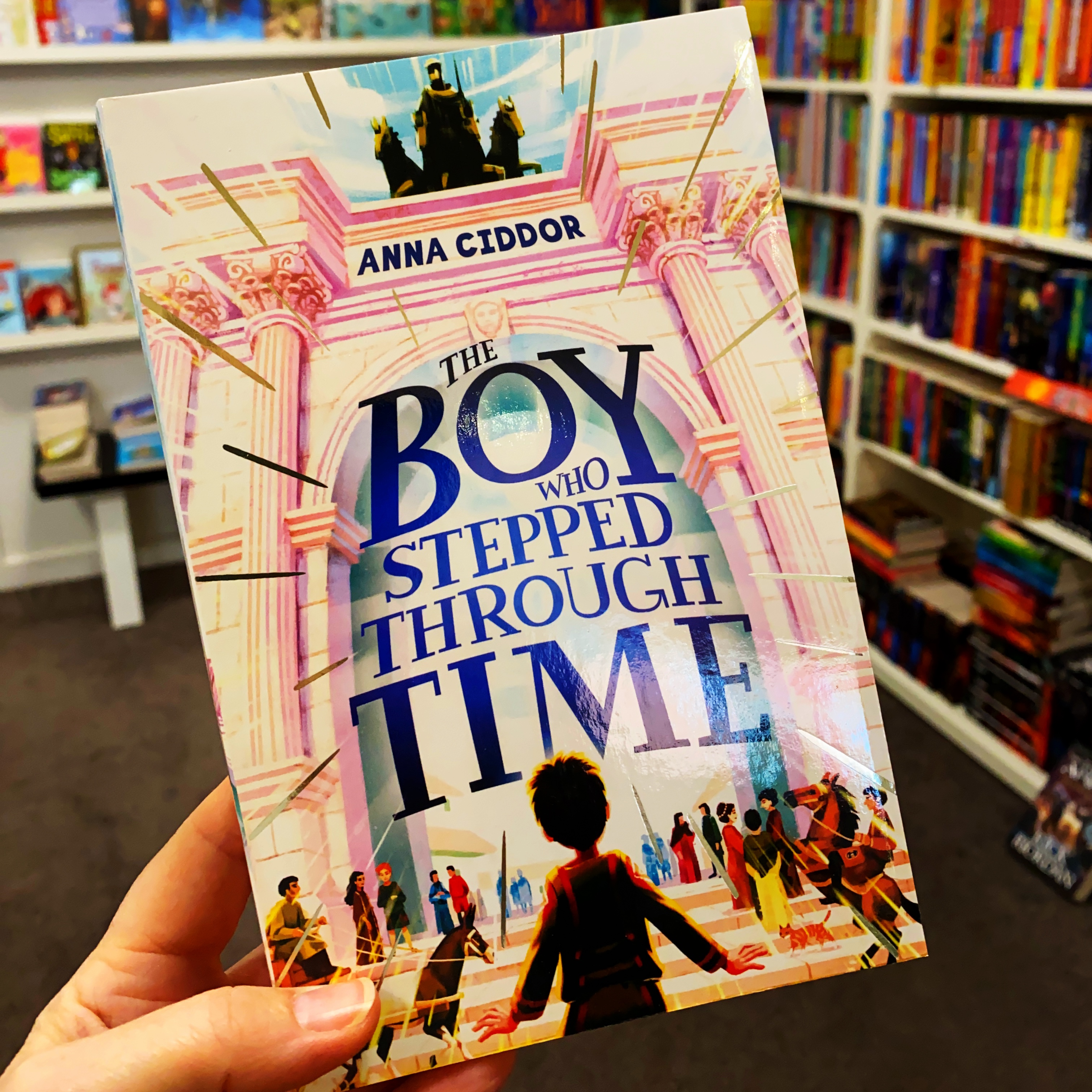 The first book is "The Boy Who Stepped Through Time" by Anna Ciddor. The synopsis is below. It's a fun read. It also happens to be quite educational due to the massive amount of research that has been done and this is shown through lots details including some fabulously disgusting ones that will appeal such as eating snails/mice for dinner with calves brains as a treat. There is plenty of action but also time to get to know and like the characters. A really good introduction to the time slip and historical fiction genres.
The second meeting will be held Tuesday 7th September.
The first book is available for collection from the shop now. Books for the second club meeting of the term will be given out at the first meeting.
The cost is $40. This includes 2 books and attendance at the meetings. Please get in touch if you have any questions.
Synopsis:
When Perry steps into a crumbling ruin while on holiday in France, he is not expecting to be transported back 1700 years to Roman times. While he hunts desperately for a way home, he must blend in as a slave – even if it means eating mice for dinner!
Gradually, Perry is caught up in the fascinating world of grand Villa Rubia and a life he could never have imagined. But when he makes a new friend, he thinks he might already know her terrible fate.
Perry is faced with an impossible choice: to find his way home or stay and guard his friend's life – and risk being trapped in the past forever…

Recommended for ages 8+
Reviews
A brilliant novel that combines history, archaeology, time travel and conflicts of modernity versus antiquity to teach kids something new and unique in a fun and vibrant way (Ashleigh Meikle in The Book Muse)
Anna Ciddor has vividly brought the Roman era to life with authentic historical flourishes… a sweet, funny romp perfect for history buffs ages 8+ (Daniella Robertson, children's and YA specialist at Readings Bookstore.)
Once again Anna Ciddor has crafted an historical narrative that will both entertain her readers with humour, drama, terrific characters and exciting storylines, and inform them with fascinating, and no doubt, previously unknown facts about life in Ancient Rome. (Sue Warren in Just So Stories)
This is a wonderful time-slip adventure with so much historical detail that it seems as if you are actually in Ancient Rome with Perry. The characters are lots of fun, and the story full of action and adventure. The friendship between the three main characters is great, and a real highlight of the book. A perfect introduction to Ancient Rome, as well as being a great adventure story. (Michelle from Lamont Books)
A delightful historical adventure story… a really fun, fascinating read (Noveltea Corner – watch the review on YouTube)
It's clear that a lot of deep research went into it, which made it an absolute joy to read. The Roman era was brought to life with colour, vibrancy and affection (Alex Crozier, Good Reads)
Imagine the last lesson of the day, 75 x Year 6 girls on the edge of their seats, 75 sets of eyes begging for more and 25 of the most reluctant readers spirited away by Anna's tale. Sounds like a best seller to this librarian. (Robyn Fox, teacher librarian, Lauriston)
To Reserve your spot follow this link:
https://escapehatch.circlesoft.net/p/kids-book-club?barcode=CIR1625270120&selected_category=95650